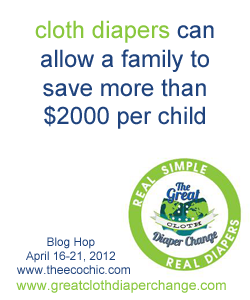 It's day 3 of Real Diaper Week - today's focus is cloth diapering on a budget.
First let me give you a few tips for saving money when you cloth diaper...
To buy -
•Flats
•Prefolds
•Covers/wraps
These are the most economical purchase options. Flats or prefolds with covers are generally much less expensive than pocket diapers, all in ones, or any other variety of modern cloth diapers.
Emergency or no-budget options -
Absorbent layer
•T-shirts
•Towels
•Sheets
•Receiving blankets
•Burp rags
•Old baby clothes
Wetness barrier
•Water resistant coats (like windbreakers, rain coats, and coats you can wear in the snow)
•Anything wool - a sweater, a blanket, a scarf...
•Fleece - a sweater, a blanket, a scarf...
•Shower curtain
These are 'around the house' items you can re-purpose by cutting and shaping them on to your baby, or set your baby on top of them naked. I'll admit we have a lot of naked time at our house - I generally put down a fleece blanket or shower curtain with blankets or towels on top and let him play on it, with only washable toys. If an 'accident' (can you call it that, if you know it will happen?) occurs I wash the toys by hand with dish soap, or throw them in the machine (for cloth toys) with the blankets.
Make your own -
Are you crafty or do you have a crafty friend?
•Knit or crochet covers, longies, and shorties from wool yarn
•Knit or crochet absorbent layers like a blanket, or in a traditional diaper shape, using cotton, hemp, or bamboo yarn
•Buy or re-purpose fabric and grab a free pattern online to sew your own diaper - many styles available (pocket, AIO, fitted and covers, etc)
My family is actually allergic to wool so knitting and crocheting longies and shorties or covers have previously not been an option for me. However, I've recently found polar fleece yarn that I'm attempting to crochet some shorties with... I'll keep you guys posted on that progress.
Accessories -
Many people can find things to use as a diaper in a pinch (anything absorbent really...) but it is the accessories most of us forget about
•Plastic shopping bags instead of a wet bag (I'll admit to forgetting a wet bag ALL THE TIME, but I can almost always find a plastic bag somewhere)
•Ziplock (or similar) bag instead of a wet bag, or to carry wipes in (wash it in the sink with dish soap between uses and leave it open to dry)
•Instead of snappi, boingo, or diaper pins for fastening flats and prefolds around your baby you can use a creative fold and tuck the ends in, or fold and lay the material inside your diaper cover in the 'wet zone' - no extras required
•Use small wash rags or cut up receiving blankets, burp clothes, flannel, cotton, fleece, or any other at least semi absorbent material and use it as a wipe
•Use water to wet the wipe - Carry it in a small spritz bottle, peri bottle, or just use a sink. You could also use a wipe solution (make your own to save money)
Other budget options
Maybe you are on a budget, but you feel you've got more wiggle room than re-purposing old t-shirts and sweaters, and you just can't get down with the idea of 'old school' diapers (flats and prefolds). You have other options. Pocket diapers are some of the least expensive modern cloth options. I'll shout out a few brands that I like, that I have found to be less expensive than most others.
I have not been given an incentive for listing these brands - I'm just sharing information
SunBaby Diapers
Sunbabys now have a two size adjustable system, meaning Size one will last from birth to near toddler hood and Size two will pick up there and last through potty training. You can get 12 diapers with microfiber inserts (other insert options available) for $60.00 - coming to $5.00 per diaper. Shipping appears to be free.
Alva Baby Diapers
*Alva Baby appears to have several dozens of fabric options, as well as many style options for their diapers*
All of their print and minky diapers are 5.59 each, solids are 4.79 each. Diapers with color snap system and double leg gussets are 6.99 each, and bamboo diapers 9.99 each. Bamboo diapers come with 2 inserts, the rest come with one made of microfiber. Shipping is free worldwide.
BabySteals.com
Baby Steals is a deal of the day site that actually offers
two
'steals' per day. The 'steals' are quality baby and maternity products and can be up to 80% off! Most of the 'steals' I've gotten were between 48% and 60% off - including several itti bitti tuttos (super awesome cloth diapers made in Australia - check them out!)! Of course, Baby Steals doesn't do cloth diapers every day - but they are a great place to keep an eye on to save you money on the products you really want - including cloth diapers.
Eco Baby Buys
and
Zulily
function similarly and also often feature cloth diapers. (Note: The Zulily link is a referral link, meaning if you chose to sign up through that link I could potentially receive a bonus. The bonus is if you sign up you can earn bonuses for having your friends sign up too). I've gotten FuzziBunz and AppleCheeks diapers through Zulily at great prices!
You can also follow blogs and enter giveaways and contest, join Twitter Parties and more - the cloth diapering community always has something fun and entertaining going on, many with ways to save. In fact, this week in particular many cloth diaper retailers are offering special discounts! Most of them have incentive programs that allow you to earn free diapers as well.
Saving in other areas
You can also save money while using cloth diapers even more by...
•Using cloth diapers - while the initial cost of getting a cloth diaper stash going can seem overwhelming you can save sooo much money. Check out some of these calculators to see how much you can save
Padded Tush Stat's Calculator
Cloth Diaper Geek's Calculator
•Dry your diapers (and your clothes) on a line or rack outside (sun gets out stains!) or inside, instead of in the drier. If you suffer from stiff items, you can pop them in the drier on a fluff setting for a couple minutes, or rough them up by hand
•Make your own detergent, or buy in bulk - you are going to use it anyways and it is good for clothes not just diapers
Get creative!